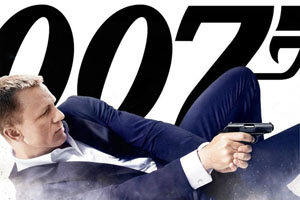 Skyfall stand twenty third in the series of James Bond. As usual a sound spy film produced by the Eon Productions and distributed by Sony Pictures entertainment in association with MGM. The film was leaded with hero Daniel Craig as bond, it is his third performance. Sam Mendes, the director of the film which was written by the team of Neal Purvis, John Logan and Robert Wade.
In this Bond investigates about the attack on MI6, which seems to be a part of former attack on M by Silva. In this bond was supposed to track and bring back the hard drive which was stolen after the murder of MI6 agent. The drive covers almost all the information about the MI6, regarding its area of survillence, NATO agents etc.
This movie seems to be a classical Bond's film. After the meeting with Intelligence and Security committee, the head of MI6, M was put under serious political pressure to get retired. After her return, MI6 was hacked and the office was broken down into pieces due to an explosion which kills a number of workers. Here Bond makes his action and with all his tactics he tracks the mercenary till Shanghai.
At the same time, 3 NATO personalities' identities are revealed and they are killed. Bond fights with the Patrice after he kills a target and at this Patrice falls to his death. At that location Bond identifies a gambling chip and by using that he got a casino in Macau. Severine was seen by Bond once during assassination. He tells bond that he is about to be killed, and he also promises Bond that he will make him to escape if he kills her employer. Bond and Severine travels to an island after beating the attackers. In the island they were prisoned by the Severine's employer, Silva.
She was MI6 agent once and worked under M. Here Silva kills Severine, but she was caught by the power of guards of Bond. In MI6's headquarters, Silva's laptop was tried to be decrypted by Q. Hereby Silva and Bond escapes using a tunnel system and Silva was disguised himself as a cop and he attacks M. And in this scene Bond drives M and she was taken to the Skyfall. Here by the last fight took and here Bond kills Silva's men, Silva and M. Then Mallory was appointed as the head of MI6 and Eve become M's Secretary.