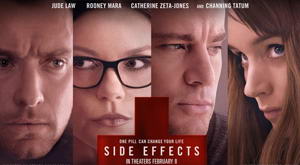 Is it a masterpiece by the director Steven Soderbergh? Or his retirement ceremony dish just to gain respect and appreciation like we never did. If yes, it could be working well for us. I am willing to go to this director and get down on my bended knees and beg him to forget retirement nonsense and get back to make films post hate. I am going to tell him that he's awesome in filmmaking and should continue to entertain me and rest of the world.
Because Side Effects is a treat to eyes and brilliantly pasteurized. It's a psychological thriller and a one of the best horror movies – like a 21st-century Marnie, or Rosemary's Baby – that is also an acid doctor. There is a compelling architecture on big pharmacy, the mental health profession and its powerful, priestly caste of stunning lead performance from Rooney Mara who lays down the law with the presence of her. She demonstrates a potent Hitch cocking combination: an ability to move you and scary at the same time, and Soderbergh's film manages to introduce its effects in some ways. Fear swamps through your mind while watching it. And the later scenes involving sex, lies and some videotapes will attract the audience eyes too.
Scott Z Burns's great script elevated higher when in hand of Steven Soderbergh. As ever, he is his own cinematographer, "Peter Andrews", and using the top class digital equipment that he discussed in the recent documentary called Side By Side, he showed up with some powerful images, elegantly framed. The simplest scenes –office of doctor, station which was a look like scenes from a nightmare.